Well, our closing on our house has been delayed until we can complete some major repairs to satisfy our lenders.  Everything is working out fine, though I'm getting a bit impatient to get back into my own space rather than usurping my parents' dining room table!
My husband B went on down to Nashville (my parents live in Minnesota) to do the repairs.  Over the weekend, he ripped out old flooring and discovered several interesting surprises – apparently the previous owner (PO) didn't know which way to overlap shingles, so we'll be ripping out some kitchen drywall to get rid of mildew and possibly mold.
He also bought the new windows to replace the original 1923 windows and new bamboo hardwood flooring.
I can't say much now, because I have very little information on the windows, but I do know that they qualified for the US government energy credit.
The bamboo flooring?  I know it's probably not sustainably harvested.  We actually bought it because it was: 1. the color we wanted; 2. actual hardwood and not laminate, and 3. because it was the price we wanted to/could afford to pay.  It will be beautiful, though: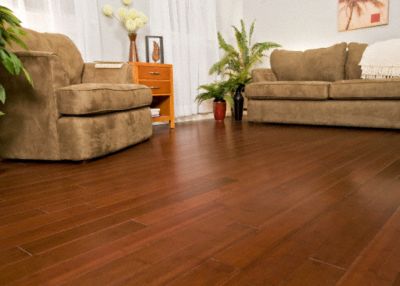 Bamboo has been lauded as a green material because it's a great alternative to traditional woods, very versatile, and regrows fast. It only takes about 4 years for bamboo to grow to maturity, while traditional woods take decades.  But what has happened is that many old growth bamboo forests have been harvested – even clear cut – to supply the demand for this revolutionary new wood.  When forests are clear cut (everything is cut down and then it's sorted through for what the harvesters really wanted.) it leaves the ground bare and rootless.  When winter rains come, it creates the perfect storm of mudslides, erosion, and just general chaos.
Until there are enough bamboo farms to supply demand, and until we demand bamboo grown only sustainably, this practice will probably continue.  (And as you know, I'm a culprit, too – there was no information on the hardwood floors to tell me how the bamboo was grown and harvested.)
And that really brings me to another problem – either manufacturers don't realize we want to know how it was grown or they realize that when it comes down to it, many of us just can't afford the time or money to look at that when we buy.  In the first case, we need make manufacturers aware of our concern.
The second?  Well, I'm not sure what to do about that, yet.  It's a very real social concern as well.  And there will always be people like us, growing and learning to be "green," who when faced with either getting the unknown or waiting months to close while finding the perfect, sustainable, affordable product, will choose to close on the house sooner.  But the convenience of "green" is a topic for another day, I suppose!
So to sum it up: our "green" score is not great so far, but I suppose it's better than it could be.  The windows are going to make a huge difference in the electricity bills.  (Not-broken windows will do that!)  And the floors are still a fast-growing hardwood that should last at least 30 years according to the warrenty, so less waste will come from replacing them down the road.
Next: paint and light fixtures.  And how to use what you have and still get your dream kitchen.